Product Description
Consinee worsted 2/60nm 100% cashmere cone yarn for spring summer
2/60 100% cashmere yarn is made from the downy undercoat of the Capra hircus Laniger, otherwise known as the cashmere goat. Originally from the Himalayas, these rugged animals grow a dual coat of fibers that protect and insulate them from freezing winds and subzero temperatures. Cashmere is eight times warmer than wool, but without overwhelming bulk. Cashmere knitting yarn has crimp, but not as much elasticity as wool. Cashmere fiber, as one of the most luxury and precious natural fiber is called "soft golden" and [diamond fiber". Being so soft, light, warm cashmere is a precious gift for human from nature.
With excellent breathability and hygroscopicity, cashmere clothes can keeps body warm in winter and cool in summer. Therefore it can not only be used in fall winter knitting but can also used in spring summer clothes production.
Product detail description:
Composition: Nm 2/60 100% cashmere cone yarn (worsted)
Name: SKYE
Season: Spring Summer 2020
Gauge suggested: 1 ply 16 gauge flat knitting machine
Colors in stock: 24 colors
MOQ: 1kg/color for stock service, 30kg/color for customer service.

Payment items: wire transfer or L/C at sight for large amount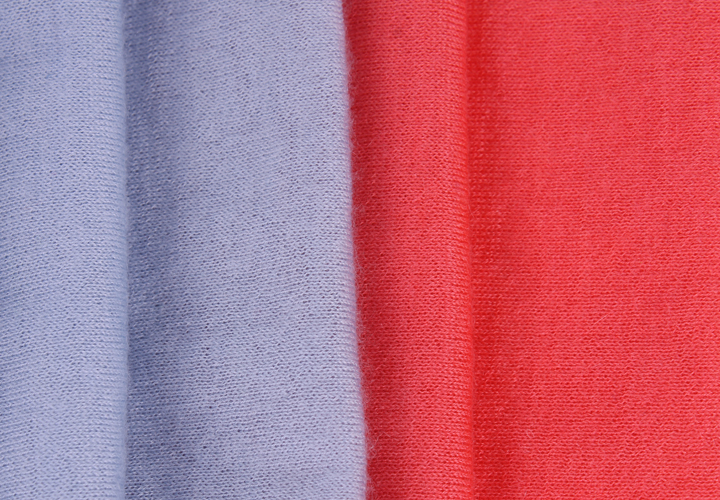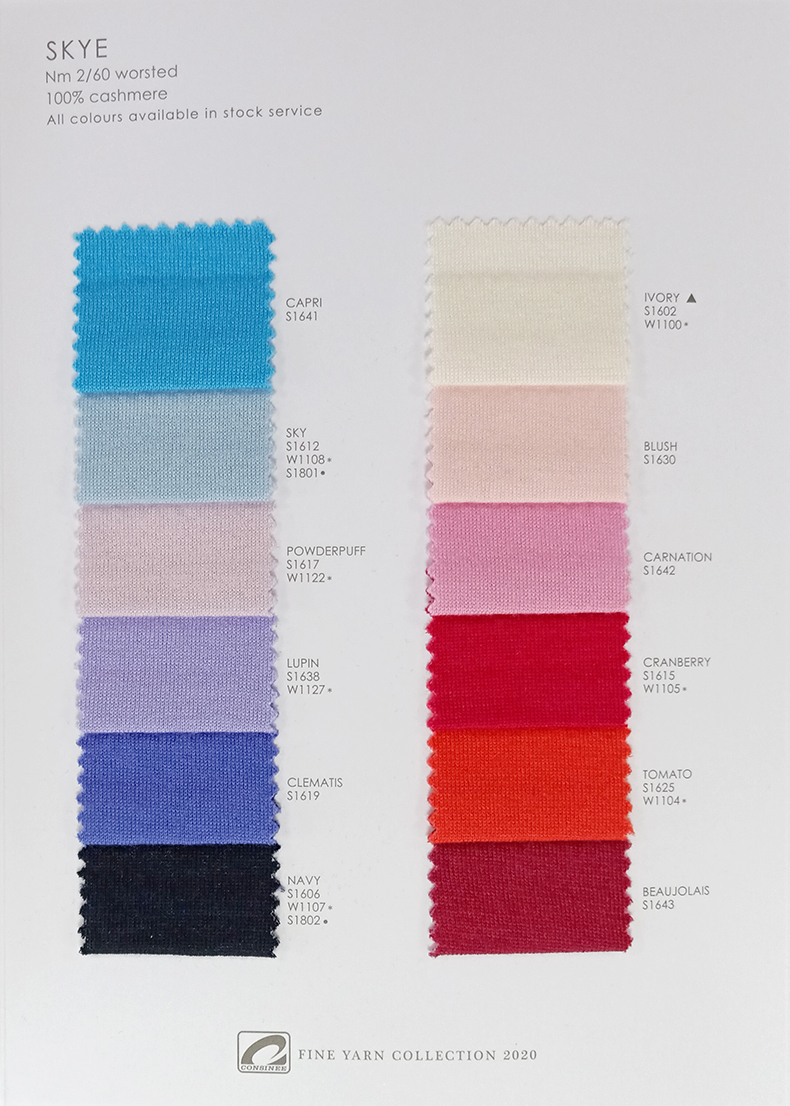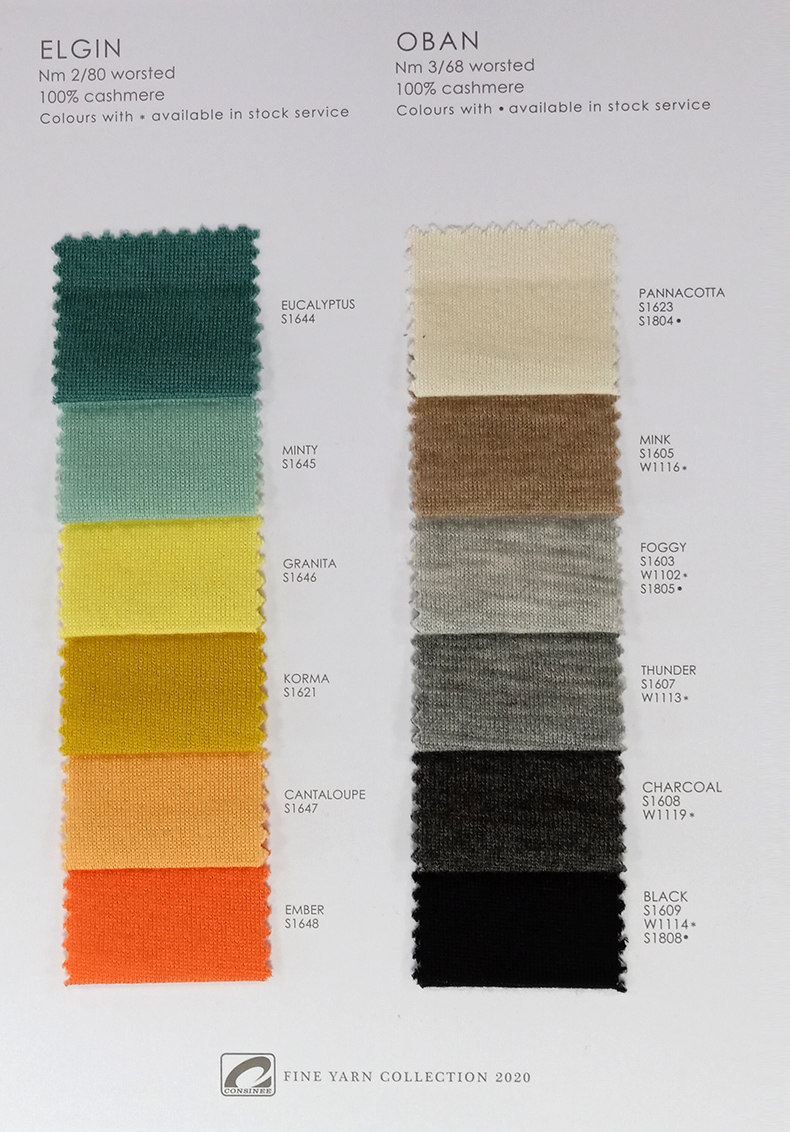 Why choose Consinee as your 100% cashmere cone yarn supplier?
1. Advanced production equipments and technology
Consinee is equipped with 16 brand new Italy OCTIR woolen production lines with annual capacity 2,500 tons for pure cashmere and cashmere blend yarn.
We have brand new Italy SANT` ANDREA worsted production lines of 5,000 spindles with annual capacity more than 1,000 tons of worsted pure cashmere and cashmere blend yarn
We have fully automatic Italy MARZOLI semi worsted production lines of 6,000 spindles with annual capacity more than 1,000 tons of semi worsted pure cashmere and cashmere blended yarn.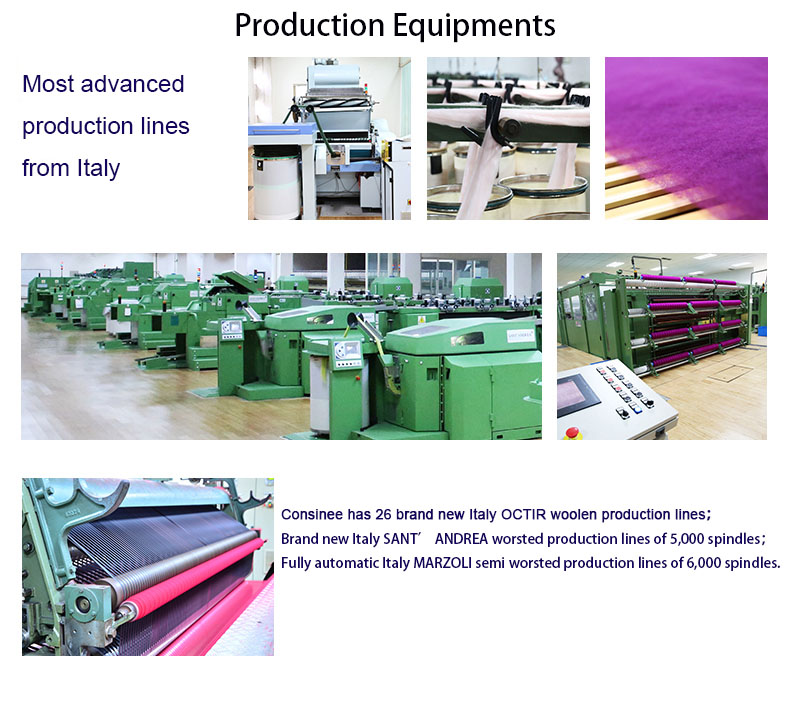 2. Consinee intelligent dyeing
Consinee is the first China spinner importing the latest dyeing machine from Italy, with annual capacity 10,000 tons including fibre dye, yarn dye and top dye.
3. MOQ 1KG
MOQ is 1kg per color for stock colors. We can gurantee prompt delivery for stock colors.
4. High quality raw material
Consinee choose best cashmere from places of origin in Iner Mongolia, Gansu, Qinghai in China with fineness from 13.2-15.5 microns.
Materials like Merino wool, camel, yak cashmere, linen are all imported from places of origin Australia, South Africa, France, Belgium etc.
5. Healthy and eco-friendly
Consinee yarn is accredited by OEKO-TEX100 and ISO9001, 14001.